Wow, winter sure did decide to come late this time. It seems like we begged for the snow from Thanksgiving to Christmas and it waited until here recently to give us the full effect. I almost want to go hang my Christmas lights back out on the house. Why not? The neighbors already think I'm goofy (at least I think they do). Well anyway. Since Mr. Groundhog predicted that Spring is right around the corner...I got the gardening itch and couldn't take it anymore! Soooooo, I repotted all of my house plants and even some of my mothers. I love my plants and they obviously feel the same way about me. Just look for yourself. They are getting so big.

This is my china doll last year when I first bought it...




And here it is now...




It went from a 4" pot to a 12" pot.

And here is my aloe plant. For some reason I cannot locate a before pic of it but if you could imagine when I first got it. It was only 3 little sprouts hangin out in a 4" pot and now look at it.




Then I got a new plant. I thought it was the neatest lookin' thing I have seen in a while so I picked it up...I was told by Miss Tonia that it's called a Lady Slipper.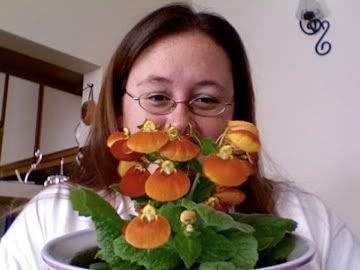 Hey, who's that goofy person hiding behind the plant? Well, silly...it's it I. The keeper of this here blog. (enter evil laugh here)

Let's see what other plants did I repot???

Oh, yeah. This is a small collection of plants my mother was keeping (killing, sorry mom). So since she has a nak for making plants shrink instead of grow I insisted she bring them to me right away...




Just a few of the usual house plants and this one above all...




Poor little thing was barely hangin' on. Don't worry, it's already starting to regain it's strength.

And now for some knitting content...

Here are the recently purchased books I got...(since mean 'ol blogger ate the pics the last time I tried this)




Now all I need are the flexible circ's and I'll be ready to go. (enter cheesy grin here)

Then...




That would be my very own copy of Viking Knits. I already see a plan in the works for possibly making the Fjorgyn for me. But I will definately be altering the sleeves. They look like choir robe sleeves. YUK!

And then last but not least...




I have a friend who is expecting and I wanted to make my first baby knitted item for her. I already purchased the yarn to make the little teddy bear but instead of cashmere I will use cotton. I also want to make the rosebud cardigan. But I will wait until she is closer to being due so she has a better chance of knowing what it is.

I also have other things going on in my life that don't need to be published at this moment but soon enough. It's a little new to me and when I'm ready I will let you know.

TTFN (ta ta for now)
Dreem